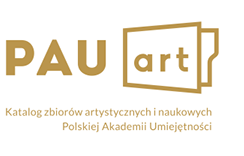 The greatest collection of scientific photographs in Central Europe, namely that of Count Karol Lanckoroński, was kept in the palace on his estate of Rozdół from the 1870s until 1915. During the First World War the collection was evacuated from there to Vienna where it was housed in the Lanckoroński Palace on Jacquingasse.
In 1929 Count Lanckoroński gave the Polish Academy of Learning his photographic collection, which comprised about sixty thousand images […] of architecture, sculpture and painting, with special emphasis on Italian art.
In mid-December the website www.pauart.pl was launched – An online catalogue of the artistic and scientific collections of the Polish Academy of Learning (PAU) in which you can view the digitalized part of the Lanckoroński Photographic Library of PAU, as well as others which belong to the Academic Library of the Academies of Learning and Science (PAU & PAN), namely to the Special Collections and masterpieces from the Collection of Prints and Engravings. Available on the website are also other resources of the Academic Archives of PAU and PAN in Kraków, including photographs from the legacy of Professor Karolina Lanckorońska. The database is regularly expanded and with each successive year will become ever more complete.
As regards the Lanckoroński Photographic Library at the Polish Academy of Learning, it is planned to provide online access to 2,000 items by the end of the year, which will include valuable photographs of Vienna from the period of Count Karol Lanckoroński's life as well as photographs from Ceylon and other places which he visited during his trip around the world in 1888-1889. In this way the Polish Academy of Learning will begin to fulfill the will of Karol and Karolina Lanckoroński to make the whole collection fully available to the public.
Adam Korczyński
http://fundacjalanckoronskich.org/wp-content/uploads/2015/10/logoNowePL-01.png
0
0
fundacja
http://fundacjalanckoronskich.org/wp-content/uploads/2015/10/logoNowePL-01.png
fundacja
2014-12-16 00:35:44
2017-11-02 13:05:26
Online catalogue of the artistic and scientific collections of the Polish Academy of Learning